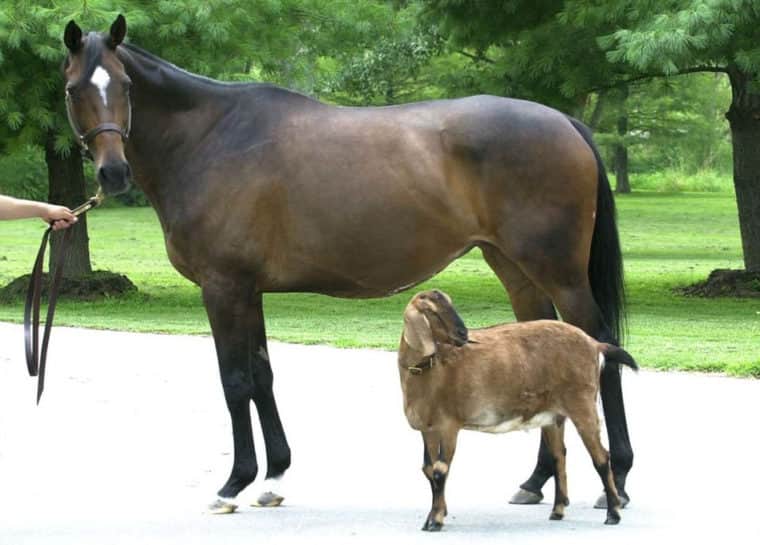 Toussaud with Liz the goat © Joy Gilbert
Toussaud (USA)
b/br f El Gran Senor – Image Of Reality (In Reality)
Date of birth:6th May 1989
Trained by:
John Gosden, Bobby Frankel
Toussaud was 2002 Broodmare of the Year and one of only four North American-based mares to produce four Grade 1 winners.
Although born at Juddmonte USA, Toussaud started life as a racehorse in the UK under the care of John Gosden, winning the Gr.3 Criterion Stakes at Newmarket in 1992. She was subsequently shipped back to the USA and started the 1993 season in the stable of Bobby Frankel.
Toussaud proved to be a real character, frequently planting herself on her way to the track, but Frankel famously didn't try to force her, opting to work around her eccentricities and adapt his training methods to suit. Despite this, she won four stakes races in succession, including the Gr.1 Gamely Handicap at Hollywood Park, needing to be driven late as she was prone to pulling herself up when in front! Her final race was the Gr.1 Matriarch Stakes at the same track, where she was second by a neck to the Eclipse Award winner, Flawlessly.
It was as a broodmare that Toussaud really ensured her legacy. Her first foal was Chester House (Mr Prospector), trained by Frankel to win the Gr.1 Arlington Million. Her second foal, Honest Lady (Seattle Slew), won the Gr.1 Santa Monica Handicap. Chiselling (born in 1999, by Woodman) won the Gr.1 Secretariat Stakes in 2002, securing Toussaud's title of Broodmare of the Year, alongside his two-years younger half-brother, Decarchy, who in the same year had landed the Gr.2 Frank E Kilroe Mile Handicap.
Empire Maker (Unbridled) was born in 2000. The colt made an easy winning debut at Belmont Park as a two-year-old, and followed it up with a third in the Gr.2 Remsen Stakes at Aqueduct – the only time Empire Maker finished out of the first two. The following year, he won the Gr.1 Florida Derby by nine-and-three-quarter lengths – the widest ever winning margin in the race, aided perhaps by the lucky blue blinkers he was sporting for the first time. The colt also landed the Gr.1 Wood Memorial Stakes at Aqueduct and was second in the Gr.1 Kentucky Derby (hindered after missing his final piece of work due to lameness), before redeeming himself as Juddmonte's first American Classic winner in the Gr.1 Belmont Stakes.
Toussaud suffered from bouts of laminitis throughout her time at stud, and required additional care. Due to this, she was unable to rear some of her foals, and thus was given a goat named Liz to keep her company.
It was complications from laminitis that led to Toussaud being euthanized in 2009 at the age of 20. "Mentally, she was as content and as happy of a mare as there was," Juddmonte's General Manager in the USA, Garrett O'Rourke, commented. "Physically, she just started to wear down. She was 20 years of age, but she probably lived a few extra years [with the physical issues]. It gets to be a time when their physiques just can't stand up to it. She endured a lot in her life and just kept on pulling it out. To have health problems and still become a Broodmare of the Year, it's quite amazing."