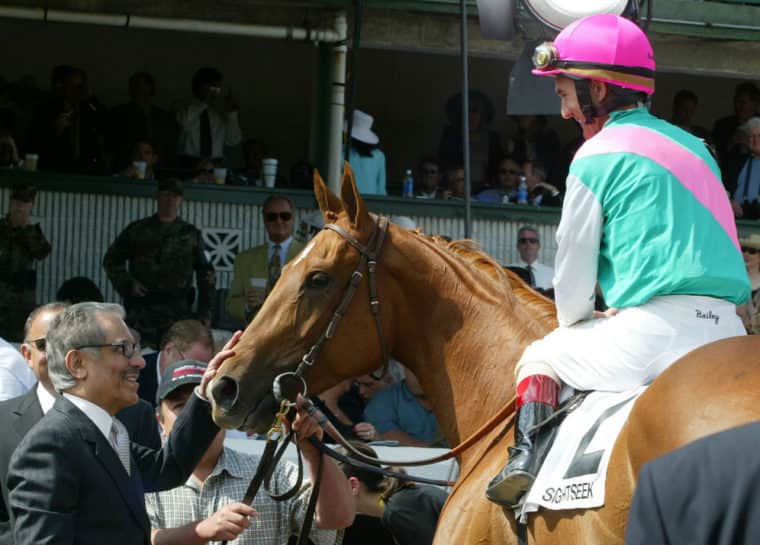 Sightseek with Prince Khalid in the winners enclosure © Barbara Livingston
Sightseek (USA)
ch f Distant View – Viviana (Nureyev)
Date of birth:25th February 1999
Until Enable came along, Sightseek was Juddmonte's most successful race filly/mare in terms of Group/Grade 1 wins. In a 20-race career over three seasons, she was never once out of the first four.
Bred at Juddmonte USA, Sightseek made the journey across the Atlantic with a batch of other yearlings to Juddmonte's Ferrans Stud in Ireland to be broken in. She showed such ability however that as a two-year-old she was sent back to America, into the care of Bobby Frankel.
Sightseek made her racecourse debut as a three-year-old, winning a Maiden Special Weight at Saratoga by almost eight lengths. Second next time out, she then picked up an Allowance race at Belmont Park by 12 lengths. In her first time in stakes company, she won the Gr.3 Raven Run Stakes at Keeneland in impressive fashion, and she did similar in the Gr.2 Top Flight Handicap at Aqueduct the following month.
Returning as a four-year-old, Sightseek ran up a trio of second placings at Santa Anita (a course at which she never won, possibly as it didn't suit her large frame), but followed this up with a run of four Grade 1 victories in succession. The first of them she won on Derby Day at Churchill Downs, emphatically defeating the field by four lengths in the Gr.1 Humana Distaff, and then it was on to New York State, where she won the Gr.1 Ogden Phipps Handicap by five lengths, the Gr.1 Go For Wand Handicap by an incredible 11-and-a-half lengths and the Gr.1 Beldame Stakes by an easy 4½ lengths. Unluckily for Sightseek, the Breeder's Cup was held at Santa Anita that year, and she could only manage fourth in the Gr.1 Distaff.
Sightseek remained in California for her first start in 2004, but again the now five-year-old was fourth. She was back on form in the Gr.2 Rampart Handicap at Churchill Downs, where she streaked away to win by seven-and-a-half lengths. A sloppy track led to a fourth place in the Gr.2 Louisville Breeders' Cup Handicap, but some six weeks later landed her second Gr.1 Odgen Phipps Handicap.
Sightseek was unable to win another Gr.1 Go For Wand Handicap, finding only the 2002 US Horse of the Year and three-times Champion Older Female Azeri too good. It was to be her final defeat however. In the Gr.1 Ruffian Handicap she stormed to victory by 11-and-a-quarter lengths, and was never headed in the Gr.1 Beldame Stakes the following month. Sightseek was thereafter retired, the winner of 12 races and almost $2.5 million in prize money.