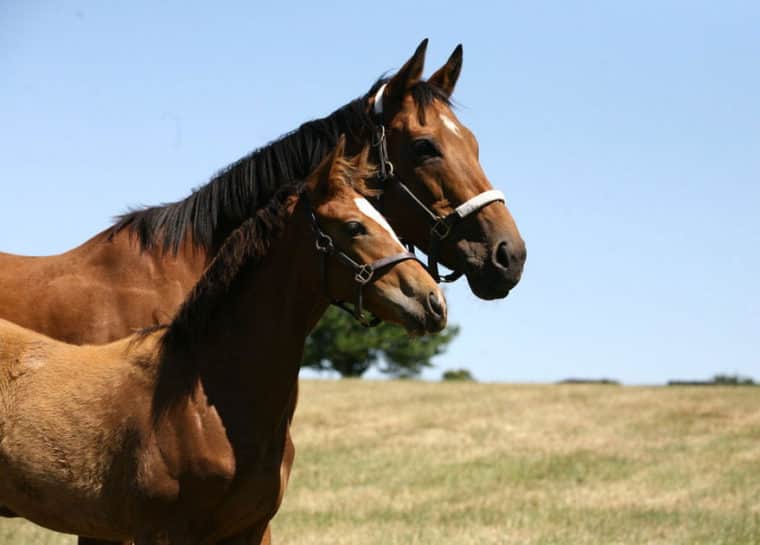 Kind and her 2018 foal, a full-sister to Frankel © Juddmonte
Kind (IRE)
b f Danehill – Rainbow Lake (Rainbow Quest)
Date of birth:21st April 2001
Trained by:
Roger Charlton

Kind was a good racehorse – a sprinter who ran 13 times and winning six times, including the five-furlong Listed Flower of Scotland Stakes at Hamilton and the six-furlong Listed Kilvington Stakes at Nottingham.
However, it was as a broodmare that Kind secured her name as one of horseracing's greats. Her first foal was Bullet Train (by Sadler's Wells), a Group 3 winner and one-time Derby favourite, who ended up as pacemaker to his more famous three-quarter brother. Frankel (by Galileo) was Kind's second foal, and in an unbeaten 14-race career proved himself the highest-rated racehorse since records began.
Kind's third foal, Noble Mission, was a full-brother to Frankel, and himself won three times at the highest level, being named Cartier Older Horse of the Year in 2014 after victories in the Gr.1 Tattersalls Gold Cup, Gr.1 Grand Prix de Saint-Cloud and Gr.1 Champion Stakes.
Two trips to Oasis Dream resulted in Morpheus and Joyeuse – the latter of whom won twice at Listed level and has now joined the Juddmonte broodmare band (with her first foal, a filly by Shamardal named Jubiloso, a dual winner and Group 1-placed, and her second foal, a daughter of Dubawi, twice a winner as a two-year-old in 2019).
After Galileo colt Proconsul was born in 2013, Kind had several unlucky years in which she failed to carry a foal to term. Happily in 2018, she gave birth to a full-sister to Frankel, who should help ensure that Kind's female line will endure in the Juddmonte broodmare band for years to come.
Kind's name will feature in the pedigrees of many Group winners to come thanks to her legendary son and now proven sire at the highest level, Frankel, and also Noble Mission, who stands at Lane's End Farm in Kentucky (with Juddmonte retaining a 25% share) and is also a Group 1 sire. All Kind's male progeny found places at stud upon retirement, a measure of her importance to the thoroughbred breed.
Sadly, Kind died on 8th March 2021 a few days after foaling a healthy colt by Kingman.