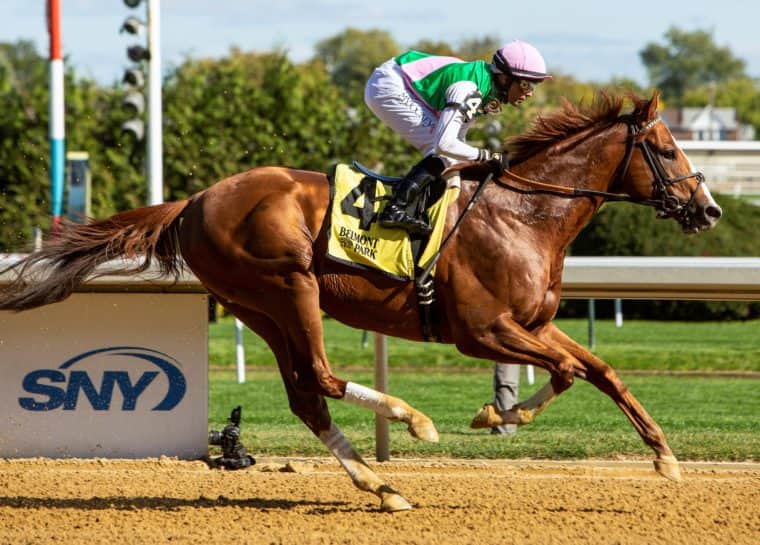 © Sue Kawczynski/Eclipse Sportswire
Elite Power (USA)
ch h Curlin - Broadway's Alibi (Vindication)
Date of birth:7th February 2018
Elite Power ran twice in the latter part of his three-year-old season with his best performance a fourth place finish in a Churchill Downs maiden special weight.
He kicked off his four-year-old year with a third place finish at Churchill Downs in July and embarked on a perfect run of four straight victories culminating in the Grade 2 Vosburgh Stakes at Aqueduct on his stakes debut. The win secured him a "Win And You're In" berth in the Gr.1 Breeders' Cup Sprint at Keeneland.
Elite Power broke alertly but let Jalen Journey rush to the rail to take command in the opening quarter-mile. He took over heading into the turn with multiple Graded winner Drafted on his outside and Eastern Bay behind. The trio lined up across the track late in the turn, but Elite Power drew off under a hand ride to secure a five and three-quarter length victory in a final time of 1:23.98.
Bill Mott commented: "He broke and he was closer than normal and that didn't seem to bother him. He was fine where he was at. He's a good closer. If he gets a good, fast pace in front of him, he can close going six or seven [furlongs]."
Elite Power's next outing was in the Gr.1 Breeders' Cup Sprint where a storming run down the centre of the course saw him blow past his opposition to win by a length and a quarter going away. Juddmonte USA General Manager Garrett O'Rourke commented: "Going back to when Prince Khalid was with us, he wanted to start buying some horses at the sales. Obviously, we got off to a good start with Arrogate and followed up with horses like this guy, beautiful horse from the very beginning."
Named the 2022 Eclipse Champion Male Sprinter Elite Power picked up right where he left off with an easy three and a quarter-length win in the Gr.3 Riyadh Dirt Sprint in February 2023. With five lengths to make up at the 500 metre mark he unleashed his run to power by his rivals before the final furlong.
Neil Poznansky, assistant to trainer Bill Mott, said: "He's a big strong animal. He shows nothing but class. He shipped over here like he was here his whole life. He's a good horse, a very good horse. His turn of foot is incredible, he's just incredible to watch, a magnificent animal.
Elite Power returned to the track in the US with a dominant victory in the Gr.2 True North Stakes at Belmont Park on 10th June, making it his seventh straight victory. Winning jockey Irad Ortiz Jr. commented: "He's such a nice and exciting horse. He's won his last seven starts. He was great last year. You can see his performances and campaign last year was great. I'm hoping he's the same or better than he was last year, so far it looks great. He hasn't made any mistakes out there."
Racing over a wet surface for the first time at Saratoga (29th July), Elite Power produced another come-from-behind performance to run down Gunite and win the Gr.1 Alfred G Vanderbilt Handicap for his eighth straight victory.
Elite Power headed in the Breeders' Cup Sprint as favourite to defend his title. He raced three and a quarter lengths off the pace before advancing into third position on the turn in. He rallied on the outside to run down long-time leaders Speed Boat Beach and Nakatomi extending away to win by a length and a half.
Trainer Bill Mott said after the race: "It's a difficult job to keep a horse going year after year. To come back and win two Breeders' Cups in a row says a lot about the durability of the horse and the luck that I have. We were lucky enough to have him and he's had a great career. He's off to his new career which will be in the stud barn and we wish him all the best."