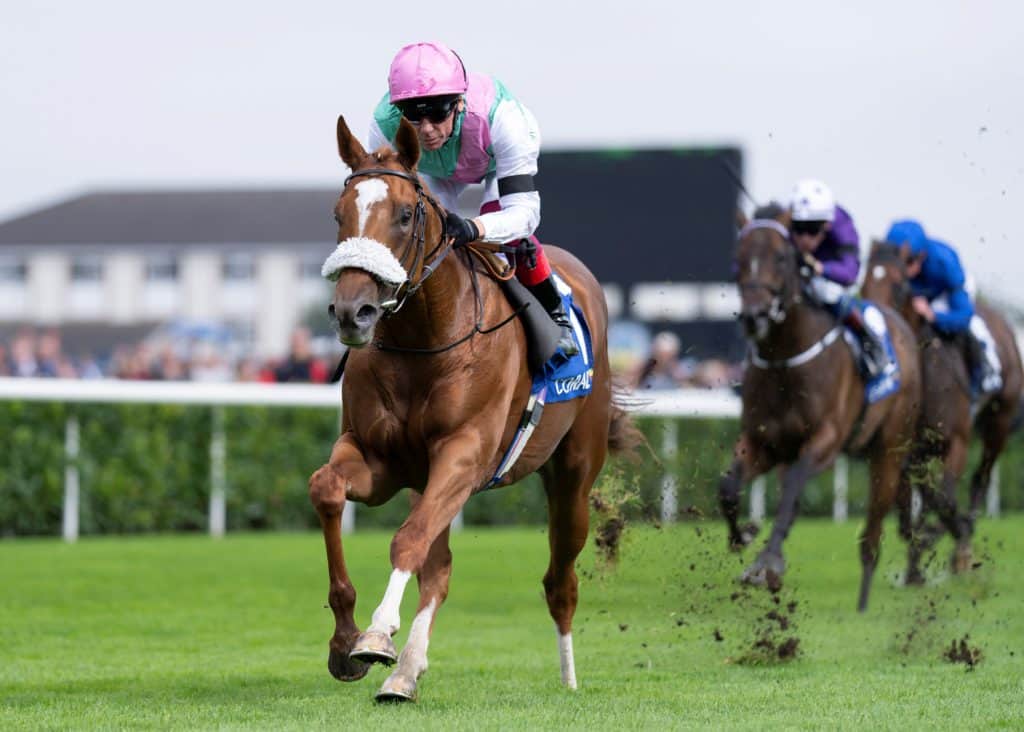 Chaldean © Edward Whitaker/Racing Post Photos
Europe
Chaldean headed for the Greenham
Chaldean, one of the most exciting horses in Britain, is likely to have a prep run for the 2000 Guineas in the Greenham Stakes at Newbury next month, his trainer Andrew Balding has revealed.
Taken from Thoroughbred Daily News, 18th March 2023
A general 8-1 chance for Guineas glory, Juddmonte's Chaldean will be bidding to chart the same path to victory as his sire Frankel, who took the Greenham before turning in one of the most memorable performances of all time in the Newmarket Classic.
Balding is no stranger to Guineas success himself. In 2020, he sent out Kameko to win the race under Oisin Murphy. While Kameko won the 2000 Guineas without having a prep race, Balding is happy to adopt a different approach with Chaldean, given how the colt thrived on his racing last year.
Balding told TDN Europe, "We are very happy at this moment in time. Chaldean has done very well in his coat and has come forward in his work so, at this moment in time, we are just where we want to be."
He added, "I think we'd prefer a prep for the Guineas with him and the Greenham would be the obvious one for him. He's not penalised in that and it's eight miles down the road from us. It would be the equivalent of having a good gallop at home to go there and have a race.
"He's a horse who improved with racing last year–with every race he got better–so we have been planning for a prep with him. That is the intention at the moment, to go to Newbury and then on to Newmarket all being well."
Chaldean went from strength to strength last season. After suffering defeat on debut, he went on to win his next four starts, culminating with victory in the Gr.2 Champagne St. at Doncaster followed by a battling victory over Royal Scotsman in the Gr.1 Dewhurst St. at Newmarket.
Asked if the fact that Chaldean is a May foal contributed to his stupendous progression last term, Balding said, "It could well be. If I'm honest, he was a little unlucky first time out as he got caught in a pocket and was just a little bit inexperienced but he learned a lot from that and, as I said, with each run he seemed to get better. It was a very rewarding two-year-old career and hopefully he can do as well this year."
He added, "After he ran a few times last year, he became not particularly flashy at home. He's very relaxed and every time we took him to the track, he put it in. He's just a great horse to have anything to do with."
Frankie Dettori partnered Chaldean to his Champagne and Dewhurst wins and Balding confirmed that the intention is for the legendary jockey to maintain the partnership.
He concluded, "That's the intention [for Dettori to keep the ride this season]. We are hoping that is the case."